Legal Information Management Index (LIMI)
Legal Information Management Index (LIMI) is the only legal index devoted to legal information management and law librarianship. LIMI indexes periodicals covering law, librarianship, library management, online and manual research, and related topics. Indexed periodicals include Law Library Journal, AALL Spectrum, Legal Information Alert, Legal Reference Services Quarterly, Trends in Law Library Management and Technology, and International Journal of Legal Information. Librarians around the world use LIMI for management, research, reference, and acquisitions.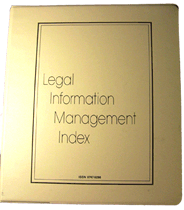 LIMI was published 6 times a year.
LIMI finished its thirtieth year in print and will no longer be published in the print edition. We are offering online access to historical information in the database (Vol. 22 - Vol. 30).