The Legal Research Dictionary:
from Advance Sheets to Pocket Parts,
3rd edition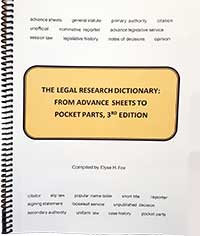 The revised and expanded third edition is now available. Earlier editions have been purchased by law and non-law libraries around the world.
Find the definitions you need of hundreds of terms used in legal research and bibliography. Dictionary coverage includes the judicial, legislative and executive branches of federal, state, and local government.
Among the hundreds of legal terms defined in the dictionary are the following:
act
advance sheets
advisory opinion
annotated code
annotation
blue book
case history
citator
code
decision
digest
executive order
headnote
historical comment
judicial council
key number
later case service
legislative history
local law
memorandum opinion
model code
nominative reporter
parallel citation
pocket part
primary authority
restatement
secondary authority
session law
slip law
slip opinion
special statute
uncodified
uniform act
The Legal Research Dictionary: from Advance Sheets to Pocket Parts, third edition, revised and expanded is an essential reference title for attorneys, law students, library staff, paralegals, and others. Compiled by Elyse H. Fox, JD, MSLS, Law Librarian/Law Library Consultant, 1978-present. Practicing Attorney, 1975-1978. Legal Research Instructor, University of Michigan Law School, 1974-1975. One copy: $65, 2 copies: $120; 3 copies: $175, 4 copies: $230, 5 copies: $285. For larger quantities, please ask.