Legal Research FAQs: 189 Ready Answers
Available April, 2014. Complements The Legal Research Dictionary: from Advance Sheets to Pocket Parts and Legal Research Q&A: 401 Flashcards with Companion Looseleaf.
Ready answers to your FAQs concerning: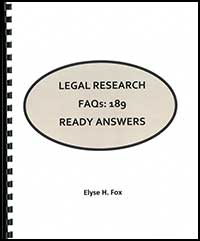 the law;
legal research;
law libraries and non-law libraries;
law librarians and non-law librarians;
legal authority;
law books;
manual legal research and online legal research;
legal annotations;
judicial opinions;
rules of court;
digests;
constitutions, statutes, and municipal law;
legislative history;
administrative law;
legal citations;
legal citators;
legal terminology; and
legal abbreviations.
8 1/2 x 11. 94 pages. ISBN 978-0-941991-50-4.
Written by Elyse H. Fox, BA, JD, MSLS. Ms. Fox has worked as a law librarian for 30+ years. Previously she practiced law and taught legal research.